Welcome Kurt and Oz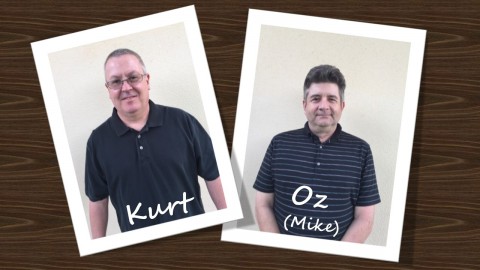 Shattuc proudly announces the addition of Kurt Stein and "Oz" Mike Thiebold, two seasoned Broadcast & Pro A/V veterans, to the Shattuc sales force.
Kurt Stein has been in the Electronic parts distribution and Broadcast Cable Sales industry since 1981. He began his career working for Pacific Radio in Hollywood, California, and spent many years throughout the 80's and 90's providing Broadcast supplies and cable to the Recording Studios, Television and Radio stations, and engineers in the heart of Hollywood.
After that, Kurt spent a few years at Anixter selling wire and cable before joining Gepco in 2002. Kurt worked for Gepco at their Burbank location where they had a 10,000 foot warehouse fully stocked with wire, cable, connectors, tools, racks, and many other products that became a popular spot for their West Coast customers to do business with. Kurt was with Gepco, which then was acquired by General Cable, until he decided to join us in April 2016.
We're glad to have Kurt on board here at Shattuc and feel his long history in the industry, experience, and knowledge of the products that we sell are a great asset for us to help us provide the best service our customers deserve.
Mike Thiebold or Oz to his colleagues and customers, has been in the Broadcast Market for the past 27 years starting at Pacific Radio in Hollywood. Beginning in Shipping and Receiving and then moving to Sales just after 1 year, Mike spent 15 Years at Pacific Radio serving all of Hollywood and the Burbank Media District with their Broadcast needs.
Looking for more of a challenge, Mike left Pacific Radio and joined Gepco in 2004 where he multi-tasked and managed the warehouse and also did Sales. He then spent 6 years at General Cable after Gepco was acquired by them in 2009. During his time at General Cable he was involved in some major projects including Levi Stadium in San Francisco, The Dallas Cowboys Training Center, and closer to home the Dodger Stadium Digital Media Upgrade in Los Angeles.
Mike is happy to be back with a real one stop Broadcast provider and looks forward to helping you with all of your product needs.
Connect with Kurt Stein directly at 818-877-0248, kstein@shattuc.com, or through the switchboard at 847-360-9500 X212.
Reach Oz (Mike) Thiebold at 818-877-0262, mthiebold@shattuc.com, or through the switchboard at 847-360-9500 X213.
Kurt and Oz will be at NAB this year, so please stop by the Shattuc booth - C12519 to visit with them and/or other members of our company.
By accepting you will be accessing a service provided by a third-party external to https://www.shattuc.com/